Sophie Torrents
Sophie Torrents is currently a freshman at University of Florida studying Health Science.  In 2010, while in high school, she took a trip to Haiti with one of the surgical teams. Sophia has a passion for photography, so while on the trip she took many heartfelt photograpghs.  After returning, Sophie printed many of the photos and hosted a fundraiser at the Helene Lamarque Gallery in Miami. She raised almost $1500 for our project.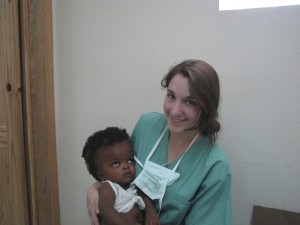 Comments from Sophia Torrent
"As I carried a twenty-pound Haitian child suffering from hydrocephalus into what we had recently made into an operating room, I didn't know what to expect. I checked to make sure that my mask was securely placed over my mouth, and that my hair net kept every stray hair from my face and in its rightful place. I settled in a closet-sized space with the best view I could find. I was nervous at what I was about to see but exhilarated at what I would learn. The little boy that had been in my arms five minutes earlier now lay on a table to have his skull drilled into.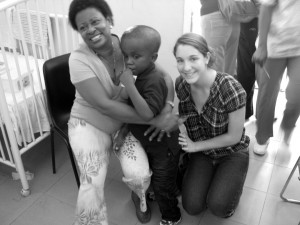 When I was 16 I had the opportunity to take the trip that changed my life forever. I had never seen a place so poverty stricken and world where antibiotics were hard to come by. The moment I walked into the waiting room and saw 22 enlarged heads and big brown eyes I knew something had changed inside me. I wanted to soak everything in. As I offered a helping hand anywhere possible, I took the time to walk around take pictures of everything I saw. Photography, for me was the way to capture my feelings and emotions.
I quickly learned that Hydrocephalus affects so many young children in Haiti. It's a phenomenon that not many people know about, yet it is extremely saddening. I could tell the difference between one patient's head, that was bigger than another's; he was less aware and not able to respond to hand movements and gestures. For many children if their condition worsens to a point that doctors cannot operate they are left with no hope.
I watched as the mothers of these children carried their very heavy infants around the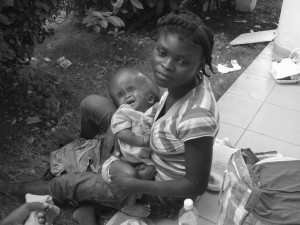 waiting room, feeding them anything they could get their hands on and hoping that their babies will soon be better.
Those four days in Haiti taught me more about the importance of healthcare, knowledge and compassion than any person, school, or lesson could have. Although the language barriers made speech difficult to comprehend, there was no shortage of understanding that I felt towards the people I had met."
Comments from Board Member Dr. John Ragheb:
My father always said "God gives each of us something.   Your challenge is to figure out what."  I think that once you've found your calling, that your purpose in life should be to use that skill for the benefit of others.  After my first trip to Haiti in 2003 with Project Medishare it was clear that the Haitians needed help treating children with hydrocephalus.  Having traveled and worked with medical missions in Africa, Central and South America and Cuba, I was overwhelmed by the need for pediatric neurosurgery care that I saw in Haiti.  Haiti had few formally trained neurosurgeons with limited access to equipment and resources and no formal neurosurgical training program.  With the help of Project Medishare and the University of Miami Department of Neurosurgery, the hydrocephalus project began not only to provide care for the children but also to ultimately create a training and educational program for Haitian surgeons.
Since the program's inception, we have worked steadily toward the goals of providing care for the children while trying to develop a training program for Haitian neurosurgeons.  Over a thousand children have been assessed and hundreds treated at no cost to the children or families. My hope is that we can create a model for care and education that other pediatric specialty programs can follow as we develop a Haitian tertiary care system for children.
Comments from Board Member Carolyn Domina:
"I have been a part of the Neurosurgical team going to Haiti since 2003. This was my first experience as a volunteer to a third world country and I have never looked back. It has been one of the most rewarding experiences that I have ever felt.  There is nothing like helping children and families who have so very little. When I first started going to Haiti it was hard to believe the poverty that I saw and then I knew this was something I wanted to do for as long as possible.  Presently I go twice a year and it is remarkable how far we have come from our initial visits. We have trained nurses to help with Neurosurgery especially with the Hydrocephalus Program  and we are now working with the Anesthesiologist  in Haiti.   I am so impressed with the care that the families provide to their children with Hydrocephalus. It is amazing. It is hard to share in words.
Join us in Haiti Healthy Kids, Inc. so that you can make a difference to the children and families in Haiti."
Comments from Board Member Ann McNeil:
I have always loved kids– wanted a dozen of my own ( settled on 4) –and count each and every one of these as special- Haitian children of my heart.
I signed up for the first trip in 2003 and by default became the note-taker, ward-monitor and liaison with the Haitian team. Over the years I have been lucky enough to travel at least once a year and with new teams as they were recruited. Of late, I am more of a trip- coordinator by virtue of working in Miami with the original group. The skills I need to improve include being able to speak Creole.
Volunteering has made it impossible to STOP volunteering. I see the profound need in Haiti for the skills of the team. Operations enable children, who might otherwise have enormous heads and profound disabilities, to have their chance at a better life. I am honored to be able to give of my time, together with the rest of the team, to care for these children and teach the Haitian professionals. We are at the point where there is a hospital to work in and there are Haitian professionals to provide anesthesia coverage and to scrub in to assist the neurosurgeons. I hope to coordinate ongoing education and collaboration with colleagues in the States. When this program sustains itself I will NOT be involved. This is our goal! I will come back as a tourist to Haiti and stop in to say Bonjour.
Those who diagnose or have children with hydrocephalus in Haiti now know who to call. They know they can refer or bring the child to PAP for care. Families of children who have had surgery know who to contact if they have concerns  whether it is immediately post op or a year later.  We have to sustain the program and the access to care.
Join us in the effort by making a donation to the project.